These tips will prepare you for what you'll need in order to set your workforce up for success while working from home.
Set Expectations on Time Management

-

We no longer see our team walking in and out the front door or sitting in a meeting in the conference room. So, know what your expectations are and clearly articulate them.

Some things to consider:

Work Hours

: Are there specific times you expect your team to be online and responsive? Are they the same hours as previous "office hours"? Consider communicating what is flexible, and what isn't, knowing that your employees are now juggling some additional at home distractions.

Responsiveness:

While communication is important, people need to get work done, too. Set clear expectations on expectations related to responsiveness. Some examples:

Slack messages (or other instant messaging tool) should be responded to within 1 hour during these work hours.

"Status" on the messenger should be set so team members know if you are working, at lunch, or on a call.

Emails should be responded to within 4 working hours.




Set Cultural Expectations -

How we work together just changed dramatically. Set expectations for your team on cultural norms. For example:

Video Chat:

Required or not?

Team Meetings:

What's optional? What's mandatory?

Checking In:

Think about, and communicate, how this new norm may impact the operating rhythm for your team.




Tools & Resources -

Make sure your teams have what they need to get the job done!

Invest in Instant Messaging:

There are many options available, such as Slack, Skype, and Microsoft IM, many with free versions or trials.

IT Support:

Make sure employees know how to get help if a laptop crashes, VPN access isn't working, or needs a program installed.
---
Remote Working Best Practices: Leadership Expectations
Our day-to-day lives have dramatically changed in the last few weeks. You're in charge. Leadership is more important than ever and can make or break the impact your team is able to have in a sudden work from home environment.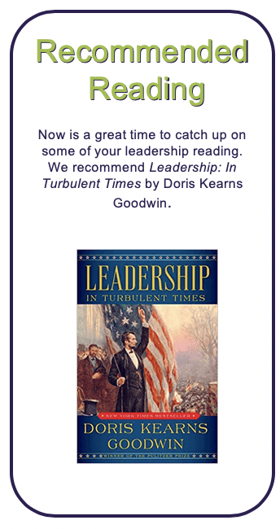 Provide Support

- Communication, feedback, and support become even more critical in a work from home environment. Ensure your team is clear on their expectations, and how to get support. A few ideas include:

Set up a specific "channel" on Slack or your other messenger service for your team. This channel should be updated daily with any new team priorities, news, or company announcements that you want to share with the team.

Create to-do lists and deadlines to ensure expectations are set and everyone knows the status of all projects. Consider investing in a project managing tool if you haven't already.




Manage Productivity

- Schedule check-in meetings and frequent touch base conversations. Striking the balance between too many check-ins and not enough will be unique to your team, so be intentional. Too many can feel like micro-managing and get in the way of work getting done. Too few will leave you out of the loop and unable to offer support.




If you see productivity dropping, check-in as you would in the office. "I see we are getting close to that deadline, is there anything you need from me?"




Have Empathy

- Everyone is experiencing heightened levels of stress right now, in many aspects of life, due to the disruption of the coronavirus in our culture. Have patience, be kind, assume positive intent, and listen to understand. Let others know that they aren't alone in the struggles to adjust to this "new norm," at work and at home, and prepare for there to be some unexpected interruptions to work. Life happens.




Set the Tone

- Hold yourself to the same standards and expectations you've established with your teams. You are the role model – answer those emails (or at least a "Hey – acknowledging I saw it and I'll get back with you"), use the video feature on conferences, don't skip out on team meetings or one-on-ones, and be accessible. Everyone is in this together, and they'll look to you on how to navigate the unknown.
---
Remote Working Best Practices: Employee Tips
With nearly no notice, you went from going to the office every day to working from home. Here are some tips to help you be the most productive, and manage your sanity!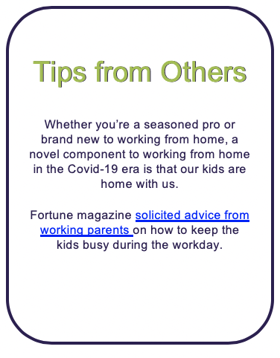 Dedicate Space

- Having a dedicated space in the house for work helps set boundaries for the rest of the family, and gives your brain cues that it's time to focus. It also provides you with clear breaks when you aren't in your "work space."

Many have converted the dining room, or even a large pantry by adding a small table, into a workspace. If you want to get serious,

Entrepreneur magazine has some great tips

on home office creation.


Set a Routine

- Wake up when you normally would. Shower and dress for work. Go into your "office." And make sure to take breaks to stretch and walk around. Setting a routine not only allows you to focus, it helps your sanity! In a 2019 State of Remote Report by Buffer.com, 22% of people said "unplugging after work" was their biggest work from home challenge. Routine allows you to separate work time from personal time.




Plan "Kid Time" Into Your Routine

- If you have children at home (or pets, or others that you are caring for), plan that into your routine. For instance, if your child is doing homework while you're on a call, have them mark any areas they have questions or want to talk about to save for later. You can then engage with them during one of your planned breaks, which gives them the attention they require and gives you the focus you need.




Use the Opportunity to "Be Social"

- In that same report by Buffer.com, 19% of people reported "loneliness" and 17% reported "collaboration and/or communication" as their biggest challenges when working from home. Find ways to engage with your teammates outside of meetings. A few ideas include:
Use Video: Turn your video on, which allows you to connect with your team.

Have a Daily Ice Breaker: This can be via messenger or live, and allows you to engage with your team outside of simply getting work done.

Create the Virtual "Water Cooler": Our company opens up a video chat for anyone to join over the lunch hour, creating a digital version of our kitchen table where we used to eat together.
---
Remote Working Best Practices: Organization-Wide Considerations
Prep Your IT Team - Be sure that your IT team has the tools and resources to perform at their best, because you're going to need them! IT will be crucial in the shift to working from home. Consider this:

Availability: Be sure your IT team is available at all times your workforce is live.

Resources: Set your IT team up for success and consider hiring additional team members to provide the best customer service they can for your workforce.

Tools: Your workforce may need additional technology tools or resources to work from home. For example, if someone has poor cell signal, consider how the organization can help. Setting up a landline or purchasing a microcell to help boost signal is a great way to show employees you're there to support them. For IT to provide the best support, the team will need to be empowered to make these changes for employees quickly and efficiently.




Civility at Work - If you have cultural/civility problems that are creating issues in how people are working together, it may only become worse working remotely. Empower your leaders to have the top responsibility of helping their team. Be vigilant on performance, but offer a helping hand to those who are struggling.


Interpersonal Communication - Offer tips to employees for communication. Remember, most of their communication exchanges will occur in a written form now, or over the phone. Many people rely on nonverbal cues for how a conversation is progressing, so now reassurance is needed in verbal ways. Don't be short with people, don't be passive aggressive, use positive affirmation where it applies, and don't be afraid to insert an emoji or two!


Organization Communication - In general, communicate – a lot. This includes communications on changes, notices, and updates. Don't assume people should just know! Have a dedicated space (via a section on the company intranet, a Slack channel, or scheduled daily 8 a.m. email) to provide updates on what's going on to your workforce. Create a rhythm with the updates so people know when to expect them.
---
Remote Working Best Practices: What to Do If Someone Is Sick
Do -

We suggest employers consider offering additional sick time pay past what the PTO policy covers. If someone is sick, let them take the time to get healthy, rather than having a policy that encourages people to come to work sick.

If someone is sick, but feels they can still work remotely, let them, but offer support for someone else to take care of their work or calls. Especially if someone has a fever, they should make it their priority to get lots of rest and get better!

Assume positive intent when someone says they are sick. Now is not the time to risk an unhealthy person coming into work and spreading illness throughout the organization, which could result in a much larger financial impact to the business.

If someone is concerned about their overall health, be respectful. Some workers may not be sick, or diagnosed with the virus, but may have underlying medical conditions that could make them more susceptible to having serious reactions to the virus.




Don't -

Do not deduct pay if someone is working. Make sure all hours are accounted for.

If someone is in quarantine, same rules apply.